Really Believe What You Really Believe
For the last 24 years I have pastored and counseled Christians to do a simple task: really believe what you really believe.
In the last several years I have even helped people prepare their own Personal Theology Statement in neat bullet points in accordance with Daniel Henderson's book, The Deeper Life.
Here is a sample from my own Personal Theology Statement:
I believe…
My God is holy
My God is worthy
My God is love
My God is grace
My God is sovereign
My God is faithful
It is simple.
Yet for some reason, it is easy for any believer, especially ministers of the gospel, to lose sight of what we really believe. And when we lose focus on "the things above" and get distracted by "the things of this earth" we can quickly begin to walk down the road of discouragement, bitterness, loneliness, despondency, despair, and even depression.
I jumped on that road of discouragement and bitterness a few months ago. My wife and I were about to become primary caregivers for my mother, who had been an independent, driven, and focused southern lady her entire life; but a week earlier she had driven herself to the hospital weak, confused, and needy. During the ensuing hospital stay, the decision was made that she would move in with one of her three children. I was the one!
The day before I picked her up from the hospital to come live with us, I was throwing a rather large pity party. There is no need to fill you in on all the thoughts that were running through my head, but suffice it to say I realized my busy lifestyle was about to change.
The morning I was going to pick her up, God caught my attention with one of those cheesy Hobby Lobby signs: "This is gonna be the best day ever."
I read it as I was sipping coffee with a friend and his brother-in-law. And as we were talking about Jesus. I chuckled and actually mocked the sign. "Not for this ole boy, not THIS day!" I thought.
And at that moment it was as if God spoke to me directly:
"Mike, do you really believe I am sovereign? Mike, do you really believe I am faithful?"
I answered those questions the same way you would have.
"Lord, You know I passionately believe those things about You; they are even in my Personal Theology Statement!"
I have helped many people apply 1 Corinthians 10:13 to their lives: "No temptation has overtaken you that is not common to man. God is faithful, and he will not let you be tempted beyond your ability, but with the temptation he will also provide the way of escape, that you may be able to endure it."
At the heart of this promise is that "God is faithful." And because He is faithful, He will not allow me to go through anything that He knows I cannot handle. If anything is in my life, it has first been filtered through His faithful hands. And He will not even allow it into my life if He knows I can't handle it.
I have taught many people Romans 8:28-29: "And we know that for those who love God all things work together for good, for those who are called according to his purpose. For those whom he foreknew he also predestined to be conformed to the image of his Son, in order that he might be the firstborn among many brothers."
Romans 8:29 tells us what the "good" is that "all things work together for." God is using all things to conform me to the image of His Son. God uses all things – EVERYTHING – to make me more Christ-like. If that is really true, then God has personally designed every circumstance (or person) in my life just to make me more like Him.
Because God is faithful, all things work for my good and God's glory!
I responded negatively to the wooden plaque encouraging me to have a good day. That's when God broke out His special Mike Mitchener baseball bat (He has one with my name written on it) and BAMMM….He hit me right between my eyes.
Yes, my life was about to change. No, I did not have all of the answers regarding what life with my aging mother would be like. But I needed to remind myself of who God is and celebrate the fact that He is in control.
At that moment, it was as if God said, "Mike, the way you feel about today's life-changing events say far more about what you really believe about My sovereignty and My faithfulness than it says about you and your mother."
My heart melted. I went from pity to party instantly. When I walked into the hospital room that morning, I kissed my mother on her cheek and told her that I counted it a joy and a privilege to take her into my home.
Take a few minutes right now and think through 1 Corinthians 10:13 and Romans 8:28-29 with an attitude of joy and thanksgiving that you serve a God who is sovereign and faithful. Then pray, "God, because You are faithful, You are working all things for my good and Your glory! For that, I say thank you, Lord."
Copyright © 2016 Mike Mitchener. All rights reserved.  
---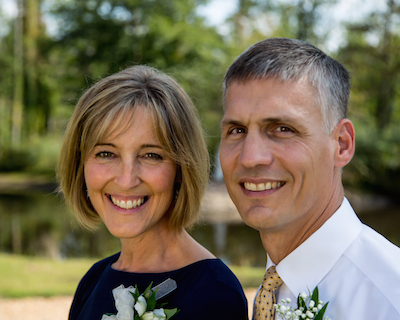 Mike Mitchener pastors Riverview Baptist Church in Pearisburg, VA, a church he and his wife Stephanie, along with three other couples, planted 15 years ago in Elon, N.C. During that time God has called over 25 people into full time ministry out of Westside Fellowship.  With 24 years of pastoral ministry experience and a past that includes both successful business and coaching careers, Mike offers a unique set of life experiences that make his messages relevant to a variety of people in all walks of life. Mike has seen himself as a "Timothy" most of his life, and has had the privilege of being trained and influenced by many great men, including Daniel Henderson and the 6:4 Fellowship since its inception. But now that he is a grandfather he is transitioning to a being a "Paul" and enjoys challenging and influencing others from God's Word.
Mike and Stephanie have been married 32 years, have three sons, two daughters-in-law, and two grandsons. He could toot his own horn some more, but really Mike just wants you to know he's just a guy who loves Jesus, his family, his church, and football.